Cory Abbot - Violin and Viola
Cory is a classically trained musician with over 25 years of experience on the viola.  As an orchestral violist he has been fortunate to share stages with such musicians as Randy Newman, Ray Charles, Martin Chalifour, Zuill Bailey, Vadym Kholodenko, Twila Paris and Branson's Liverpool Legends.
Cory greatly enjoys teaching and also live performance and has recently discovered a love for the studio recording. His particular joy comes from film music.
Cory received his Bachelor of Music from the University of Central Arkansas and his Master of Music in viola performance form the University of Central Arkansas. He has many years of orchestral experience and chamber/solo experience.
Julie Adams - Violin, Viola, Cello, Piano, and Voice
Julie has been teaching music to students of all ages and all levels for 30 years. She has taught music in the public schools and has directed orchestra and choir from the elementary to middle school level. She is also active as a professional musician playing and performing with several regional orchestras and chamber ensembles. Julie also serves as a piano accompanist for choir and individual students as well as performing on piano and organ for church services.. Her teaching style is encouraging and supportive while also maintaining high expectations of her students. She believes lessons should be enjoyable and challenging. 
Dr. Keith Allegretti - Piano
Keith Allegretti is a pianist and composer with a DMA from the University of Texas at Austin. He has been an active educator in Ann Arbor, Santa Fe, Houston, and Austin, giving private lessons in piano, ear training, sight singing, music theory, and composition. A frequent performer, he regularly plays old and contemporary styles of music on the piano and accompanies vocalists and instrumentalists. Recently, he has performed as a pianist in the University of Texas New Music Ensemble, and as a conductor for the Cohen New Works Festival at UT. His piano teaching focuses on musical expression, interpretation, and clean technique, with an emphasis on collaborative playing.
Quinn Balz - Voice and Piano
Originally from Wisconsin, Quinn moved to the Austin area with her husband to improve her career as a musical theatre pedagogue specializing in youth voices. 
She earned her BA in Music, Educational Studies and Theater in 2018 from Carroll University (Waukesha, WI). After COVID-19 struck, she decided it was a good idea to go achieve her masters rather than sit on her couch. She graduated with a MM in Musical Theatre Pedagogy from Carthage College (Kenosha, WI) in 2021. 
Quinn is a Wisconsin and Regional Music Theater NATS winner in 2017 and 2018. She has performed in many musicals over the years, some of her favorites include Barbie in Numbers Nerds, a Wisconsin premier at Carroll University, Gangstar #2 in The Drowsy Chaperone at Waukesha Civic Theater, Martha Dunstock in Heathers the musical and Mama Rose in Sondheim's Women at Carroll University. She is very excited to start teaching at Premier Music Academy!
Grace Catherine - Piano and Voice
Grace is a professional singer who teaches voice and piano. She has over ten years teaching experience and has her Masters in Vocal Performance from The University of North Texas. Grace has taught all ages from elementary to the collegiate level. Not a stranger to performing, she has sung in operas and musicals in the U.S. as well as Italy and Canada. She has also appeared as a soloist for the Abilene Philharmonic with maestro David Itkin. Grace has a passion for acting and directing stage productions as well. She has directed a number of musicals and has worked as assistant director under world renowned opera director Michael Cavanaugh. Grace loves teaching and helping students on their musical journey. She strives to create an encouraging and challenging environment where students can learn and love music.
Julis Clegg - Guitar, Bass, Piano
Born in Smithers, BC, Canada, guitarist and composer Julius Clegg earned his B.A at Vancouver Island University and M.A at the University of Toronto, studying Jazz music and composition. While in Canada he was an active member in the fertile music scene in Toronto, performing and recording with the "U of T 12tet", as well as performing, recording, and leading his own small groups in the city.
Now living in Austin, Julius continues to write music for small ensembles, and teaches guitar, bass, and piano at the Premier Music Academy.
Lana Clifft - Violin, Viola, Cello
Svetlana Clifft was born and raised in Russia. She is a professional musician and music instructor with extensive education from some of Russia's finest universities along with a decade of teaching experience. She has played with the Round Rock Symphony, Balcones Community Orchestra Austin, Rybinsk Orchestra. She holds a B.A. in Teacher, Music from L.V. Sobinov Music College Yaroslav, Russia and an M.A. from Moscow State Open Teacher's Training University Moscow, Russia. In Russia she performed a variety of musical styles (baroque, classical, jazz,pop) for violin and piano solo, string quartet, ensemble and orchestra. As a professional teacher she was awarded a diploma for preparation of a prize-winner of the City Contest of Young Violin and Cello Players. She has been playing violin with the Round Rock Symphony Orchestra since 2008.   Ms Lana has also had great success with her students receiving "All-State" winner status at the State Festival.
A recent graduate from Samford University, Taylor received her bachelor's degree in Piano Pedagogy and Performance. During her time at Samford, Taylor participated in several piano competitions, master classes, and recitals. She has been teaching piano lessons for the past six years with great passion.
Taylor likes to incorporate various types of music study in order to help her students become well-rounded musicians. Her goal is to inspire students with a love of music, and provide an encouraging environment for students to express themselves through playing the piano. She is excited to share the joy and freedom that music offers.
Elliott Dunlap has a colorful musical background. Although he began studying the piano at an early age,he first gained attention as a cellist. As a teenager, he became a fellow of the National Symphony Orchestra in Washington, D.C., performed within the orchestra at selected concerts and went on to win the H. Stevens Brewster Memorial Award. He arrived in San Francisco in 1991 and became a cello student of Bonnie Hampton at The San Francisco Conservatory of Music. After deciding to concentrate on the piano with William Corbett-Jones at San Francisco State University, Elliott furthered his studies in London at The Royal Academy of Music and King's College.
Elliott has performed in master classes for such world-renowned artists as Neville Marinner, Lynn Harrell, Janos Starker, Karl Ulrich Schnabel and Elizabeth Powell. Elliott was selected to perform on April 27th, 2005 at San Francisco's Noontime Concerts on a special series sponsored by the Helen von Ammon Fund for Emerging Artists. Aesthetically, Elliott identifies with pianists whose recordings date from the early twentieth century (Paderewski, de Pachmann, Cortot) and the degree of artistic freedom in their playing that is largely lost today.
Elliott writes this about his teaching: "It is a small miracle that I became a piano teacher. Working with an instructor in my youth who shouted and hit the piano caused me to quit altogether. Since 2002, I have devoted most of my time to teaching children in the opposite way. There is an old saying…'Give a man a fish and he'll eat for a day; Teach a man to fish and he'll eat for a lifetime.' Hence, showing the student how to practice is an important part of every lesson. It's a special delight when they grasp that practicing is a soothing, meditative experience when done slowly and methodically."
Trey Fawcett - Voice, Piano
Trey is a vocalist and former public school music teacher. He began performing in church, choir, and musical theatre at a young age and is now a cover musician and singer-songwriter. 
Trey is a graduate of Baylor University in Music Education, where he sang with the Acapella Choir, Chamber Singers, and Baylor VirtuOSO, a pop/jazz acapella group. He has 4 years of professional public school teaching experience, as well as experience in children's theatre. Trey has traveled abroad and across the United States with choral and pop acapella groups, performed in recitals, and been involved in multiple recording and video projects. In teaching, he is committed to individual student needs and sound and has a particular interest in musicology/ethnomusicology.
Jay Gonzales - Voice, Beginning Piano
Jay is a former middle and high school choir director from Taylor ISD. He has taught private voice lessons and is excited to begin his journey being a private piano lesson teacher as well. Jay graduated from Texas State University with a B.A. in Music Education. 
While at Texas State, Jay was a part of the Texas State Opera program and was the bass section leader in the Texas State University Singers; he also participated in the Texas State Men's Choir, and Heart of Texas Barbershop Choir. Jay is very excited to teach others and to bring the joy that comes with creating music. He is very patient and creates a safe learning environment that will push the student to become a better musician. 
Austin Johanning - Trumpet, Beginner Brass, Beginner Piano
Austin is a Trumpet Player from Wichita, KS with a Bachelors of Music Performance in Jazz Studies from Wichita State University. He has been active in the Austin, TX music scene since 2015: touring with Soul band Roxy Roca across the US; performing internationally with the Tin Pan Tigers brass band; performing locally with Hotsauce ATX, Erica Michelle band, Roland and the Roots Riddim', Cara Van Thorn; and doing studio work for various projects. He has a passion for teaching and has been a part of many music education programs in Kansas and Texas as a supplemental instructor.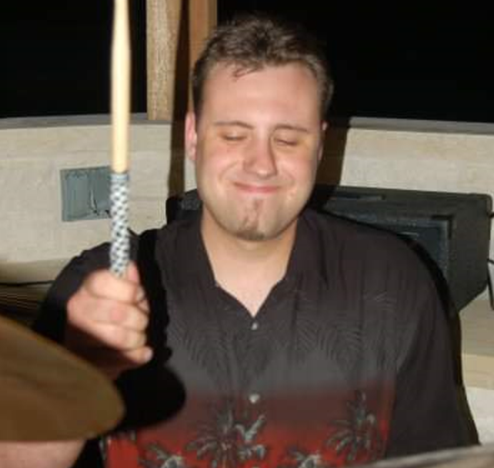 Michael has been an active musician since the age of 5. He has an extensive music education having studied jazz and percussion at Grand Valley State, the same at Grand Rapids Community College, and music composition at University of North Texas; he also studied with world-class drummers Tim Froncek and Scott Weltner. Michael has recorded albums in a variety of styles, and has played in various bands over the past 25 years. These include two punk bands, three metal bands, a Jazz ensemble, marching bands, and a 70's cover band. He currently performs all over the Austin area in addition to teaching.
Susan Leach - Voice, Flute, Piano
Susan studied voice at the University of Texas at Austin where she earned her Bachelor's degree in Music with an emphasis in Choral Conducting.  She has studied music for over 30 years, and is an accomplished flutist and vocalist and is also proficient in piano.  As a vocalist, she is trained both classically and in the IVA (Institute of Vocal Advancement) Technique which aids the voice in singing in a free and natural manner.
While at UT, Susan performed in several ensembles including Concert Chorale and the Longhorn Band.  She participates in various volunteer and professional choirs and has performed in venues including the Erwin Center, Bass Concert Hall, and St. Mary Cathedral and for dignitaries including the Governor of Texas and the Bishop of Austin. 
Susan is currently the Director of Music at St. John Vianney Catholic Church.  She has directed performers of all ages with varying degrees of ability.  She is skilled in a wide range of musical genres and often sings in other languages including: Latin, Spanish, French, German, Italian, and others.  She also regularly sings and plays flute at weddings, funerals, church services, and in concerts.  In addition, Susan is a certified cantor with the National Association of Pastoral Musicians.​
Jim Leadbetter - Percussion
Jim has played drums for 29 years. Over the course of his career, he has recorded, played, and toured with bands up and down the west coast, including features on raiod and TV. He began teaching in 2008 and enjoys passing on his love of percussion to his students. He specializes in several genres including rock, hip hop, jazz, and reggae, and also works with students in marching band. His lessons cover everything from drum setup and tuning to proper technique, improvisation, and auditioning for gigs in the music industry.
Marissa Ortega - Piano, Guitar and Elementary Music
Marissa Ortega is a classically trained pianist and guitar instructor from Georgetown, TX. She has several years of teaching experience in piano, guitar and elementary music. Marissa also serves as her church guitarist and pianist for services every Sunday.
Marissa has had extensive exposure to music from the age of 8 and continues her musical journey today. Having performed in jazz ensembles, percussion ensembles, and choir at Blinn College and the University of Houston, she remains excited for what is next in line and how she can share music with the world. 
 Marissa is currently partnered with Andy Ziker of Ziker Enterprises and Bucketeers from Bay Area, California teaching Bucket Drumming, a concept of using a color coded system on a five gallon bucket to learn the art of percussion as young as three years old. Bucketeers has allowed Marissa to teach a new and fun concept of music and percussion to children ages 2 to 6. She loves the use of the color coded system not only for buckets, but for all instruments. She is excited to share her passion and a new concept for teaching with fellow teachers and new students.
Jon Peppin is from Fort Worth, TX and has played guitar for over 10 years. He has worked as an elementary school teacher for 1st, 3rd, and 4th grades, along with teaching guitar for middle and high school students. In addition to guitar, Jon also has experience teaching ukulele in a class setting. He attended the University of Southern California for degrees in Accounting and Economics, with a minor in Chinese Language and Culture. He loves incorporating games into his lessons and is very excited to work with students of all ages and levels.
Kaushalie Ranaweera - Piano
Kaushalie, a Sri Lankan by birth, has been teaching piano for the past 25 years. She started giving piano lessons at a very young age. Professionally, a certified school teacher in Math, she graduated in Geology and Physics from the University of Peradeniya, Sri Lanka, while her interests in the field of music lead her to complete her finals in Piano at the Associated Board of the Royal Schools of Music, London, UK. While in Sri Lanka she presented candidates of all ages for the practical and theory examinations conducted by the Associated Board of the Royal Schools of Music, UK and Institute of Western Music and Speech, Sri Lanka and produced many award winners. 
​Kaushalie has varied lesson plans to cater to the needs of students of all ages and different capabilities. Her main goal is to instill a love for learning piano which, she believes, would result in amazing performances.
CJ Renzi - Trumpet, Guitar, Ukulele, Bass
CJ began his guitar studies at age 14 with John Nazarenko, Artist-in-Residence at Skidmore College in New York. After learning the basics of jazz, he went on to study classical guitar with Joel Brown, receiving his B.S. and M.S. in Music Education from the College of St. Rose. As an educator, CJ taught elementary music for several years in Houston, along with classical guitar lessons at the community college, before opening his own studio in 2005. He began an online Music Appreciation course for Kanawha Valley Community and Technical College, which he ran from 2010-2018. He now teaches both at Premier and out of his studio, where he also spends his free time composing for both classical and rock guitar.
As a piano accompanist, Ben specializes in both collaborative performance and high-level improvisation. He worked at UMass Amherst as an accompanist from 2016-2020. Every semester he performed with students there on dozens of recitals, classes, masterclasses, and private lessons. He also worked as a pianist at Orchard Covenant Church in Springfield, Massachusetts, where he wrote and performed original arrangements and accompanied weekly church services.
As an active composer, arranger, and audio producer, Ben's work has been featured in films, video games, and broadcast radio performances. For more information about Ben's music visit bentibbetts.net. There you will find a large library of original creative content including audio, sheet music, interviews, podcasts, and other media.